Tip!
At the bottom of the page you will find a link with information for our exclusive and unique training!
"It was a great pleasure to attend the training on "Sustainability Maturity" (SUMA) model and qualified as SUMA assessor. SUMA is an innovative approach developed by Alexander to assess organizations against the most rigorous set of Sustainability challenges that goes way beyond any existing methods worldwide. The uniqueness of this approach is not limited to the width regarding Sustainability Aspects: SUMA translates Sustainability into the Management level of organizations (at strategic and operational levels) and requires not only evidence but also the demonstration of effectiveness. Since SUMA is not an open assessment model like other models, it comes with a clear definition of all Maturity levels, including all related Sustainability and Management aspects. Organisations would get valuable improvement potential that can be used to further improve their competitiveness by using SUMA model. Furthermore, SUMA assessment would be a great approach to further quality organizations as a responsible organization, setting it further apart from their competitor."

Sustainable Excellence needs a basis from stakeholder theory point of view to understand stakeholder expectations, bridging the different expectations to a consensus and set up strategies and processes to fulfill these expectations. Right now, that all has just project character, not structured and implemented in the strategies with no benefits for all. This brings up 3D-SuMa and the CASO training.
The ´Why´
Organizations need a systematic Approach to
define Sustainability Strategies related to all relevant Sustainability Goals as Stakeholder expectations
implement these Strategies into efficient Processes, and finally
measuring the Benefits for Stakeholders.
And since, no organization is perfect, they also need a way to measure how mature they really are; in other words, they need an Assessment Tool to measure the Maturity Profile
across all Sustainability Aspects addressed in several standards

in terms of Management Implementation

related to Stakeholder Benefit
Using the 3D-SuMa Assessment Tool, organizations can track the improvement of Maturity as they continuously turn Sustainability Activities into Stakeholder Benefit, on their journey to Sustainability Excellence.
With our SuMa 3D-Model we go an unique way:
We have developed the innovative, 3-dimensional Sustainability Maturity (SuMa) Approach that ensures Effectiveness for Stakeholders.
Only in our 3D-SuMa Model, the Sustainability Dimension  (with relevant aspects of the ISO 26.000 or 14.000 series, UN Global Compact, OECD Guidelines, SA 8000 etc.) meets the Management Dimension (with the principles of BSC, EFQM, St. Gallener Management Model, Value Management System) to ensure Effectiveness for Stakeholders. With its 3rd. Dimension, our SuMa model offers unlimited Improvement an Innovation potential.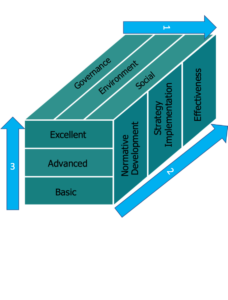 The traditional way of Sustainability right now:
Implement a management system (HR, risk, quality, environmental, anti-corruption etc.). But these single, not linked tools to each other are inefficient. That's why sustainability and CSR is not working, innovation struggle and quality is just a nice promise.
Our new model consolidated all relevant aspects of Human rights and Labor standards, compliance and process management but also environmental management systems combined with a maturity approach. The defined criterions, necessary for a successful process and strategy work are strongly linked to benefits for stakeholders.
For sure, we are convicted, that our approach delivers a huge benefit to Your!  You will be surprised about the potentials waiting in Your organization.
Because, more than 5 Years of scientific development, empirical evidence of not working management systems and hight-end EFQM expertise is right now unique.
Thats the feedback from the African Excellence Forum and the audience of the conferences, I introduced the approach.
Now, we offer a Training called "Certified Assessor for Sustainable Organizations" (CASO) on the model in a modern didactic environment to train You latest assessment procedures where You create benefits for Yourself but also for Your organizations and others.
Of course, Organizations can be assessed and evaluated also. An international Assessorteam will conduct inverviews and do a side-visit to prove and double check the provided materials (like Sustainability report). The maturity profile and the feedback report shows the most important Strengths and identifies the most relevant Areas for Improvement.
Through our international Partners, we will be able to hand out a Certification "Committed to Sustainability" "Recognized for Sustainability" or the "Local / Global Sustainability Award".
You are Sustainability Expert or Consultant?
If so, You can support the organization after the assessment (but attention: As assessor You can not support the organization due to compliance!) using the 3D-SuMa tool and Your expertise.
Some Insights and Recommendations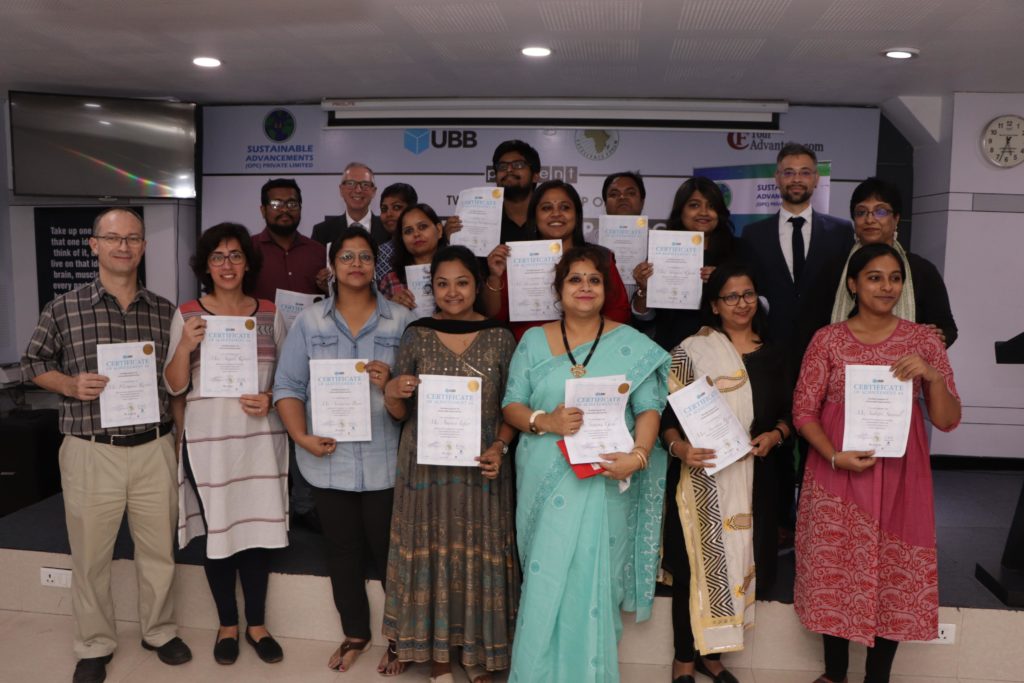 "Wunderful, the two days of training were really enriching! The turn-around of all relevant models gives the most holistic view on that topic. And the innovative teaching methods makes that 2 days lovely"
"A very helpful holistic approach to assess the level of organisations in respect to sustainability. It helps to set a path to align Company's objectives, actions and measurements to become a more sustainable company. Thanks Alexander Dr. Herzner for your insightful training and coaching"